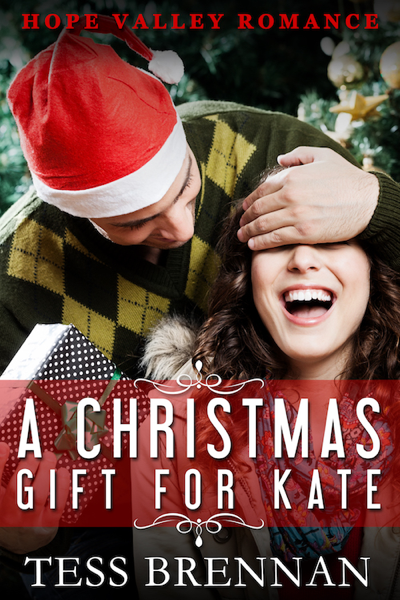 A Christmas Gift for Kate
Book 1 Hope Valley Romance
After her husband's business fails and he leaves her for another woman, Kate has managed to rebuild her life in Hope Valley. She is happy with her lot — until her daughters come to visit and tell her that her husband had not, as he told Tess, lost all his money when his business collapsed.
Her daughters want justice, but Kate just wants to move on. And then, just to complicate things further, she meets and is instantly attracted to Tolly Nelson, the son of her elderly neighbor Grace. But.. when her problems with her ex-husband escalate, her relationship with Tolly seems doomed.
Christmas is coming, and all Kate wants is a quiet life — but it seems that this is a gift that will cost her dearly!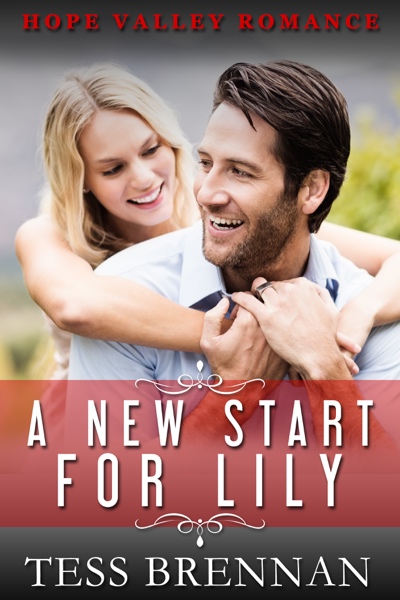 A New Start for Lily
Book 2 Hope Valley Romance
When everything around her falls apart, Lily Carella abandons her old life and runs. Finding her way to sleepy little Hope Valley, she impulsively decides to stay and takes on a job in the local diner.
Short of funds, living in a tiny apartment and still scared, Lily grits her teeth and makes the best of her situation. Gradually, she makes new friends, semi-adopts a timid pup called Nameless and starts to feel at home — but Mike Agnew's interest in her has her worried. She can't afford for anyone to find out about her past: it's too dangerous for them.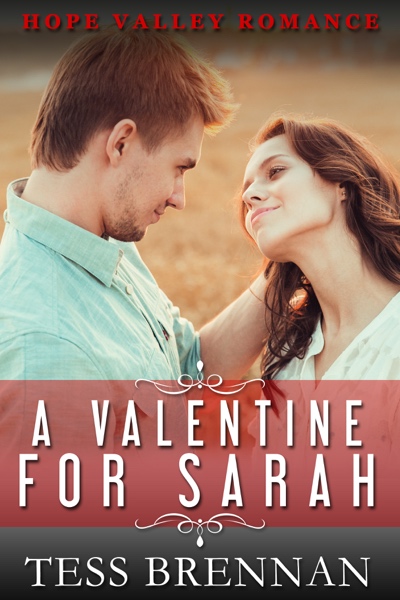 A Valentine for Sarah
Book 3 Hope Valley Romance
Sarah Clancy, raising two children alone after the death of her beloved husband five years before, has a problem.
That problem comes in the shape of a rebellious sixteen-year-old daughter, Ruby, who has been skipping school – in company with Dylan, who just happens to be the son of the high school principal, Cam Hyde.
Cam is torn between the demands of his job and the need to help his son get through a bad time.
Together, Cam and Sarah face not only the challenge of steering their children back on the right path, but dealing with the growing attraction between them.
Then the kids really start acting out, and the fur flies. What happened to a peaceful life?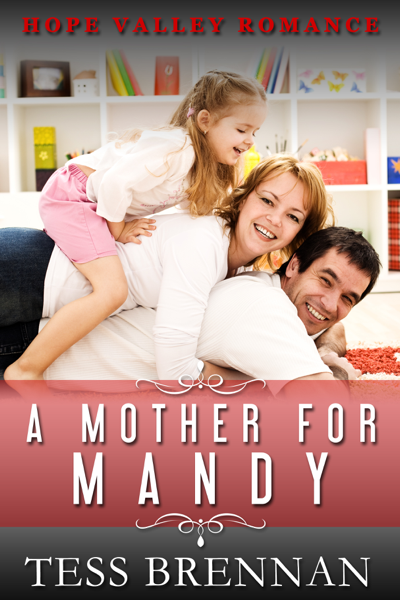 A Mother for Mandy
Book 4 Hope Valley Romance
Amber Meadows can't help feeling drawn to Blake, the introverted army vet who rides at the same weekend biker outings as she does. She senses something special in him and has made an effort to draw him out.
But… he has never mentioned his family, and he CERTAINLY never mentioned that he has a daughter! So when he turns up on her doorstep one Friday afternoon, looking frazzled and holding tight to the hand of a tiny red-haired spitfire called Mandy, Amber is more than taken aback. Amber and Blake join forces to give a brave but fearful little girl the security she has never had. The problem is, little Mandy wants nothing to do with this taciturn man who says he's her dad — she just wants to live with Amber!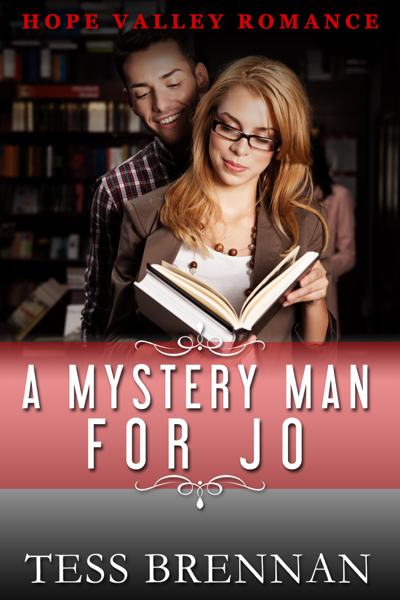 A Mystery Man for Jo
Book 5 Hope Valley Romance
Jo Bailey resigns from her high-profile job and goes back to sleepy Hope Valley to manage her newly-married mother's 'little hobby' — a quirky bookstore that seems to be more of a community center than a real business. How can Jo (Harvard-educated and the daughter of a prominent business tycoon) possibly fit in with the demands of a community that clearly has no clue about how a business should operate? She has to deal with a craft group, ladies playing canasta, and the mysterious Mr. Smith tapping away at his 'memoirs' in a corner.. a man who seems to be far too interested in what the locals are up to!
By the time Jo manages to winkle out Ashton Smith's secrets, it's all too late. She has already lost her heart to him. And she would
never
have guessed his guilty secret…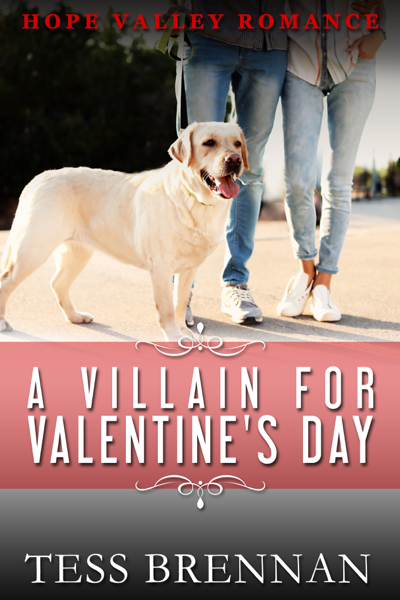 A Villain for Valentine's Day
Book 6 Hope Valley Romance
Edie Calhoun has always been a disappointment to her parents. She's not fashionable enough, not talented enough, and in the forthright opinion of her successful father, is wasting her talents on her fledgling graphic design business.
It all becomes too much when her charming but feckless brother Alex begs her to look after his dog Villain while he takes his latest girlfriend to Hawaii for Valentine's Day.
Then Jake Miller turns up at the door: a dog obedience trainer that her brother hired just before he flew out. Edie is suspicious of Jake immediately: handsome like her brother, he is just as charming. There's no way, she tells herself, that she's falling for that! Edie has watched her brother leave a trail of broken hearts, and she knows the type only too well.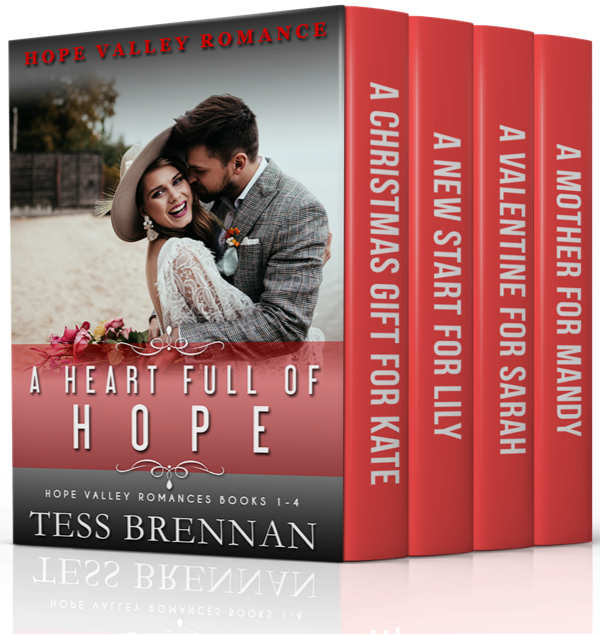 By TESS BRENNAN
A Heart Full of Hope
Enjoy this inspirational boxed set of the first four stories in the Hope Valley Romance series!
Books included are
:
A Christmas Gift for Kate A New Start for Lily A Valentine for Sarah A Mother for Mandy
(see full descriptions of each title below)
Contemporary romance Author
Tess Brennan
I'm lucky enough to be able to live on the coast, near beaches and a creek, and my husband and I both enjoy exploring our local area. I'm pretty happy to spend time on the beach or swimming – and oh yes, lolling about in the sun, and spending hours on craft pursuits! But there's one other thing that I love to do: read stories about people who have loved and lost, and loved again… or people who fight against the odds to find the love of a lifetime! Naturally, reading stories like this led to writing stories about the path to love and happiness. (OK, I'm a sucker for this.) The Hope Valley Romance series is just the beginning. After all, there are thousands of wonderful stories to tell!